How has the pandemic affected Caribbean citizens? A survey of 102 Jamaicans has shown that FEAR and ANXIETY are predominant amongst the public. These sentiments are to be expected during the current health crisis. Many are also feeling confusion, sympathy and empathy, which again, is not surprising.
Jamaicans, April 2020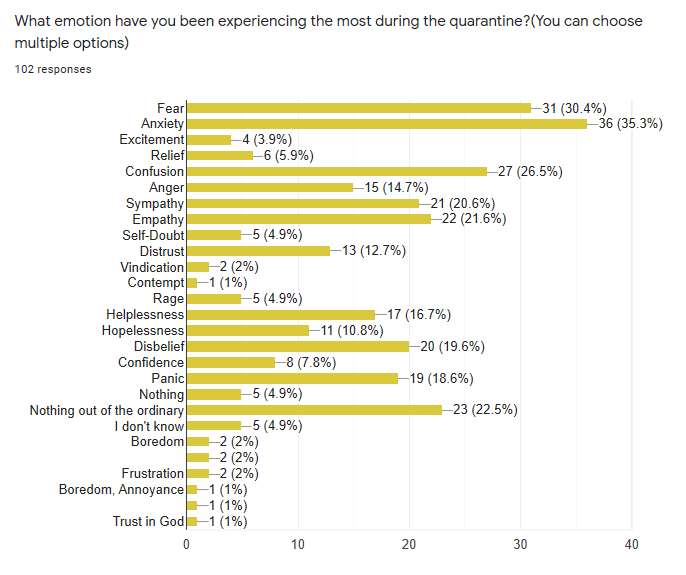 How can a cross section of the public not be inundated with any strong feelings during this time? 22.5% surveyed said they felt "Nothing out of the ordinary". And this reality is not unique to the Jamaican public. 18.5% of 65 Caribbean nationals and diaspora inclusive of residents in Trinidad, Belize, California and New York surveyed, felt "Nothing out of the ordinary". Given infection rates, the changes in work and socialization patterns, it is quite strange for respondents to describe their feelings this way. What could this mean?
Caribbean Nationals and Diaspora, April 2020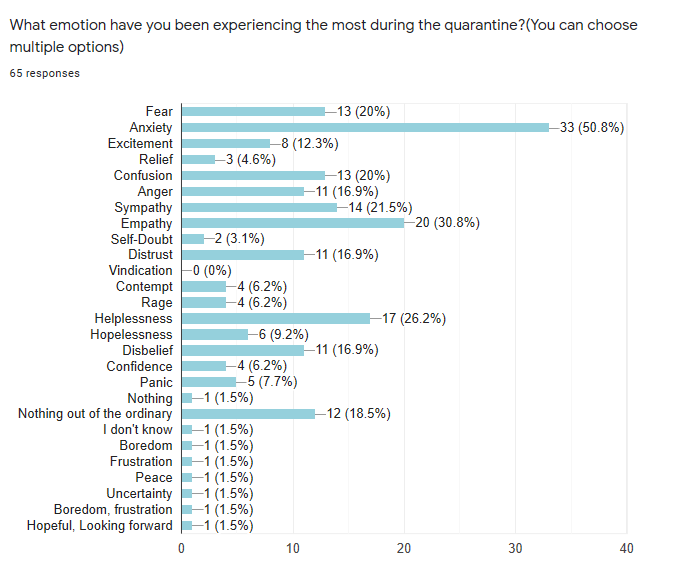 The Centre for Disease Control and Prevention (CDC) in the US has warned that individuals deal with the stress of a health crisis differently. See the CDC's report on crisis management strategies.
Sherman Lee, a scholar in the department of psychology at Christopher Newport University in Virginia, published an interesting study in April on the levels of anxiety experienced by the U.S. public. With 775 adults, Lee evaluated facets of the Coronavirus Anxiety Scale (CAS). This scale is a general mental health screener to classify probable cases of anxiety related closely to the COVID-19 crisis.
Extreme anxious behaviour was noted within his test group, resulting in Lee hypothesizing that 70% of the world's population may need both medical and psychological care during this pandemic. The scale used to survey respondents' feelings was aligned with the symptoms of various well-established psychological disorders. See COVID-19 Anxiety Scale (CAS) below:
No.
How often have you experienced the following in the past 2 weeks?
Not At ALL
Rare, less than a
day or two
Several Days
More than
7 days
Nearly every day over the last 2 weeks
1
I felt dizzy, lightheaded or faint when I read or listened to the news about coronavirus.
0
1
2
3
4
2
I had trouble sleeping or staying asleep because I was thinking about coronavirus.
0
1
2
3
4
3
I felt paralyzed or frozen when I thought about or was exposed to information on the coronavirus.
0
1
2
3
4
4
I lost interest in eating when I thought about or was exposed to information on the coronavirus.
0
1
2
3
4
5
I felt nauseous or had stomach problems when I thought about or was exposed to information about the corona virus
0
1
2
3
4


Column Totals










Lee states "dizziness, which is the first item of the CAS, is a major symptom of panic attacks and an associated feature of generalized anxiety disorder (APA, 2013). Sleep disturbance, which is the second item of the CAS, is a common symptom of both generalized anxiety disorder and post-traumatic stress disorder (APA, 2013). Tonic immobility, which is the third item of the CAS, is not a major symptom of any psychiatric condition. However, motor inhibition is an involuntary response to extreme fear and perception of inescapability (Marx et al., 2008) and is typically experienced by victims of highly traumatic situations, such as sexual assault (Moller et al., 2017)."
Other symptoms of COVID-19 anxieties are appetite loss, which is the fourth item of the CAS. Appetite loss is a common symptom of major depressive disorder, a condition that often occurs with panic disorder in Lee's estimation. He notes that "[a]ppetite loss is also a noticeable sign of fear because it reflects the biological process of blood leaving the digestive tract into areas of the body that mobilize the person to deal with imminent threat (Cosmides & Tooby, 2000). Nausea or abdominal distress, which is the last item of the CAS, also captures the digestive changes associated with a fear response (Cosmides & Tooby, 2000). Similar to dizziness, nausea and abdominal distress are also major symptoms of panic attacks and are associated features of generalized anxiety disorder (APA, 2013)."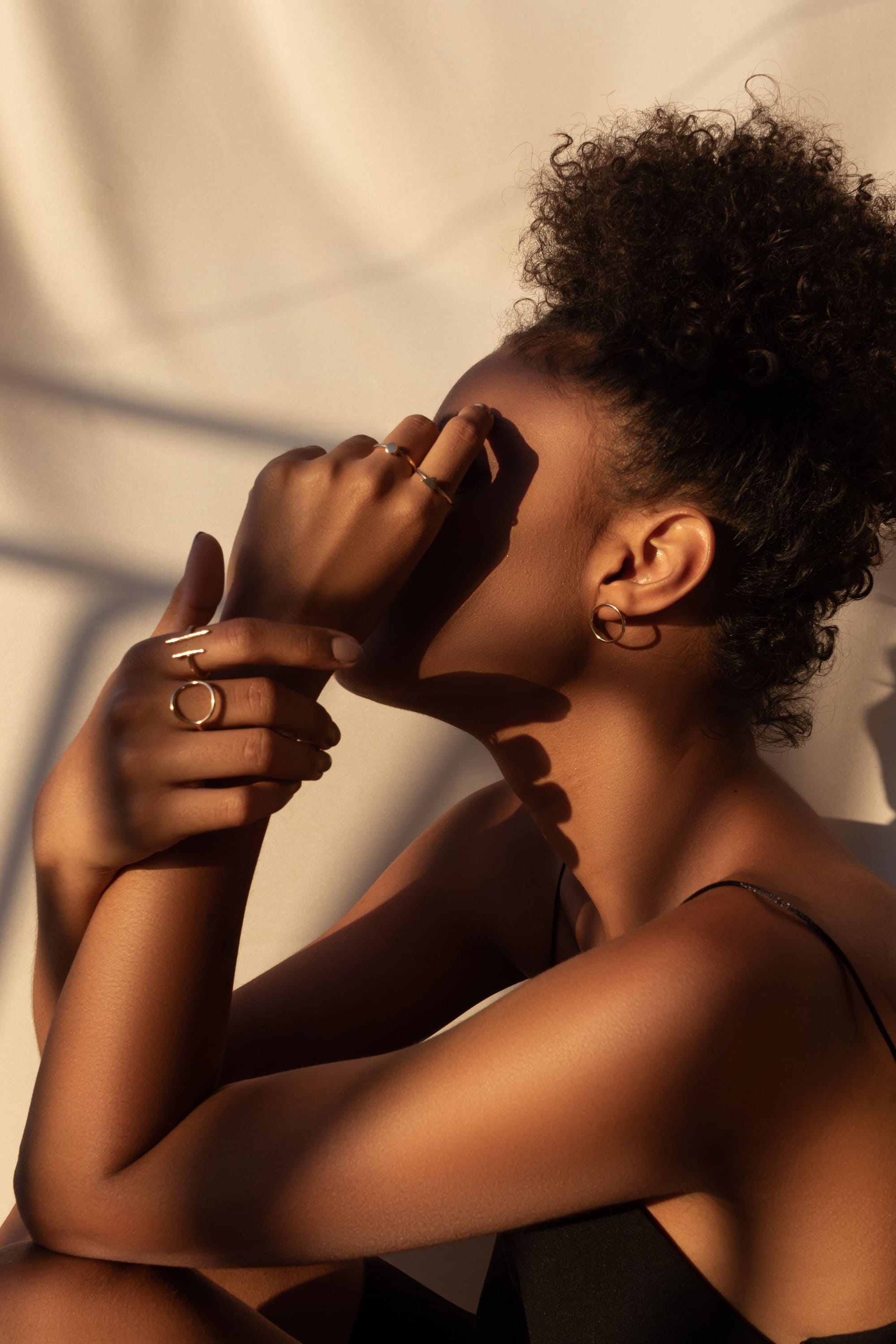 Jamaica, like the rest of the Caribbean, is reeling from the spread of virus this year. We are yet to critically assess the mental health of our population. The Covid-19 Anxiety Scale will be a good screener for local health professionals to assess the public. However, the scale provided by Lee will have limitations for the Caribbean. It does not account for sociodemographic differences in responses to fear and anxiety. As noted above, a significant number of the 167 Caribbean nationals and Jamaicans surveyed, recorded feeling nothing out of the ordinary. What does this mean? Is this a unique marker of Caribbean nationals and diaspora?
It is important that the Caribbean pay acute attention to their current anxiety levels and ensure that they are reaching out to skilled mental health professionals for assistance if need be. One can utilize the points in Lee's Corona Anxiety Scale to identify if they are having abnormal anxiety due to the tense reality of the pandemic despite the screener's limitations.
If you or a loved one have experienced dizziness, sleeplessness, tonic immobility, bouts of nausea, panic attacks and/or loss of appetite during the pandemic please speak to a healthcare professional.
To find out more about managing anxieties during the pandemic, go to the Jamaican Mental Health Unit's website.
For Lee's full article on "Coronavirus anxiety scale: A brief mental health screener for COVID-19 related anxiety".
Look out for PART 2 which evaluates the updated COVID-19 anxiety levels in the Caribbean for 2021. COMING SOON!